Over the past couple of years mindfulness has exploded in popularity. Like many trends, it has faced questions about whether it's just another health-crazed fad.
But it's not just Instagram influencers who are recommending it. According to the NHS website, paying more attention to the present moment, and to thoughts and feelings, helps to improve mental wellbeing and enables people to enjoy life and understand themselves better.
Thanks to the boom, there are now dozens of apps on the market to help you start – or continue – your path to mindfulness.
The vast majority of these apps are free (at least at first) and offer short, guided meditations so it doesn't matter if you're a beginner or a pro.
But there are also plenty of extras to look out for – from nostalgia-inducing bedtime stories, to calming background noises and winsome animations to help you learn about the theory behind the trend.
When searching to find the right app, it's worth thinking about what you need as well as what you like. If you can't stand the narrator's voice, for instance, then you're going to find it hard to relax.
If you want motivational messages sent through when you know you're going to be stressed, there's an app that will do that.
There are also audio-focused apps and mindfulness journals if you'd rather track how you're feeling by answering daily questions than sit through a guided meditation.
To help you find the perfect one, we have tested products from across the market. We've rounded up the best below, from those designed for "fidgety sceptics", to another that customises the meditations offered depending on how you're feeling – so whether you're a total novice or a seasoned expert, we can guarantee there's an app out there for you.
You can trust our independent reviews. We may earn commission from some of the retailers, but we never allow this to influence selections, which are formed from real-world testing and expert advice. This revenue helps to fund journalism across The Independent.
Calm: Free one week trial, then £28.99/year, iOS/Android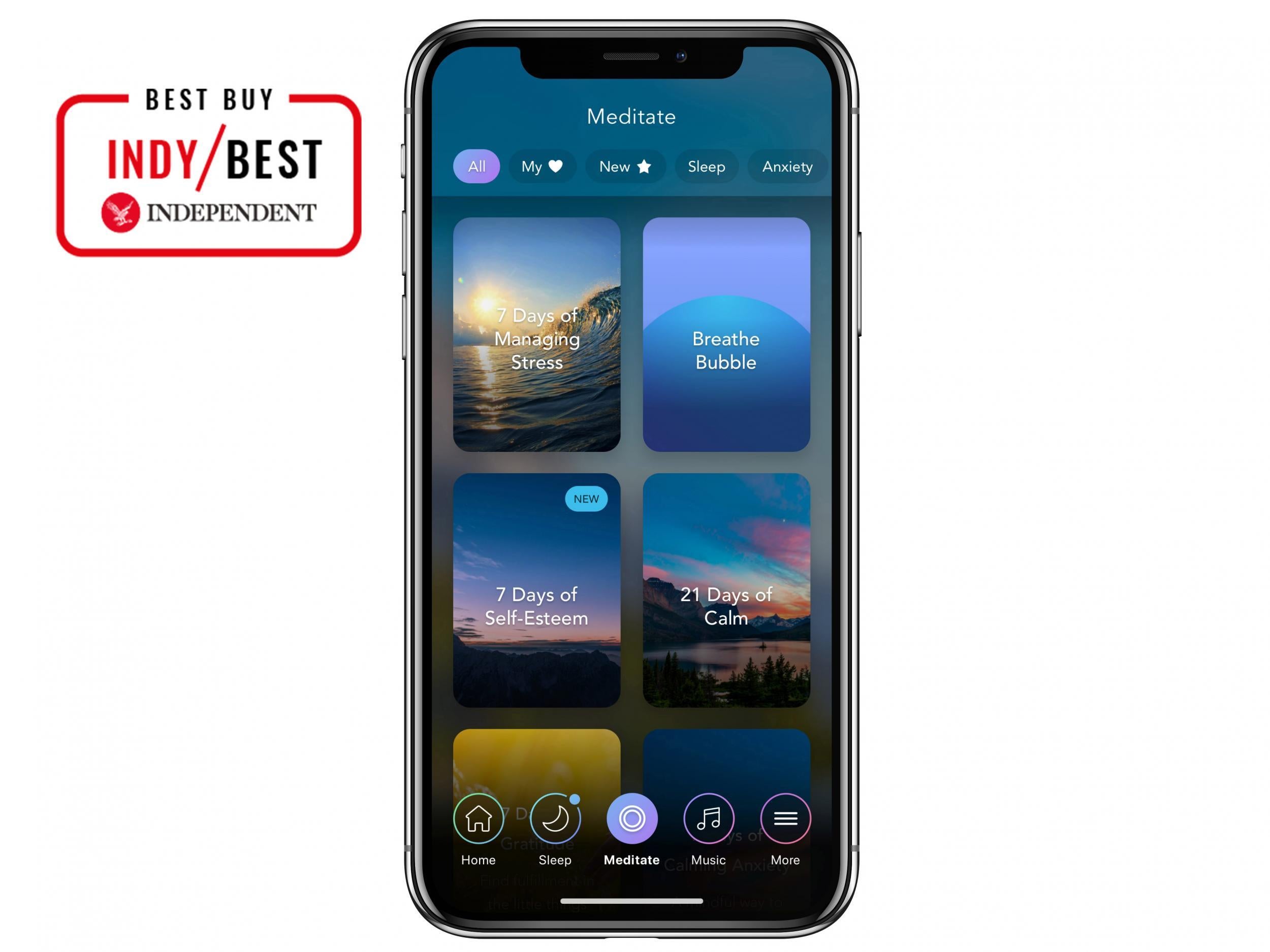 Open the Calm app and you'll immediately be greeted with the gentle sound of the outdoors. It varies from person to person, but we loved this touch and found it helped us on the path to relaxation (if you don't like the outdoors, you can change it to rolling waves, pouring rain, crackling firewood or crickets). As well as guided Daily Calm sessions, which help you unwind and refocus your attention, there are also programmes for intermediate and advanced users.
If you fancy something a little different, you can pick from exclusive music tracks engineered to help you focus, relax or sleep, such as Calm Body – a series of 10-minute guided videos on mindful movement – and Sleep Stories, which are calming tales narrated by celebrities including Stephen Fry and Matthew McConaughey. We genuinely found the latter helped us unwind in the evenings and brought back the wonderful nostalgia of being read a bedtime story.
The latest version of the app includes a new mood check-in feature, which allowed us to reflect on how we were feeling each day, and an updated home screen, making our favourite meditations easily accessible. With plenty of content and at just £28.99 for a subscription that lasts the whole year (there's no monthly offer but that equates to just under £2.50 a month), we also think this app is great value.
Download for iOS
Download for Android
Headspace: Free download, then optional subscription £9.99/month, £44.99/year, iOS/Android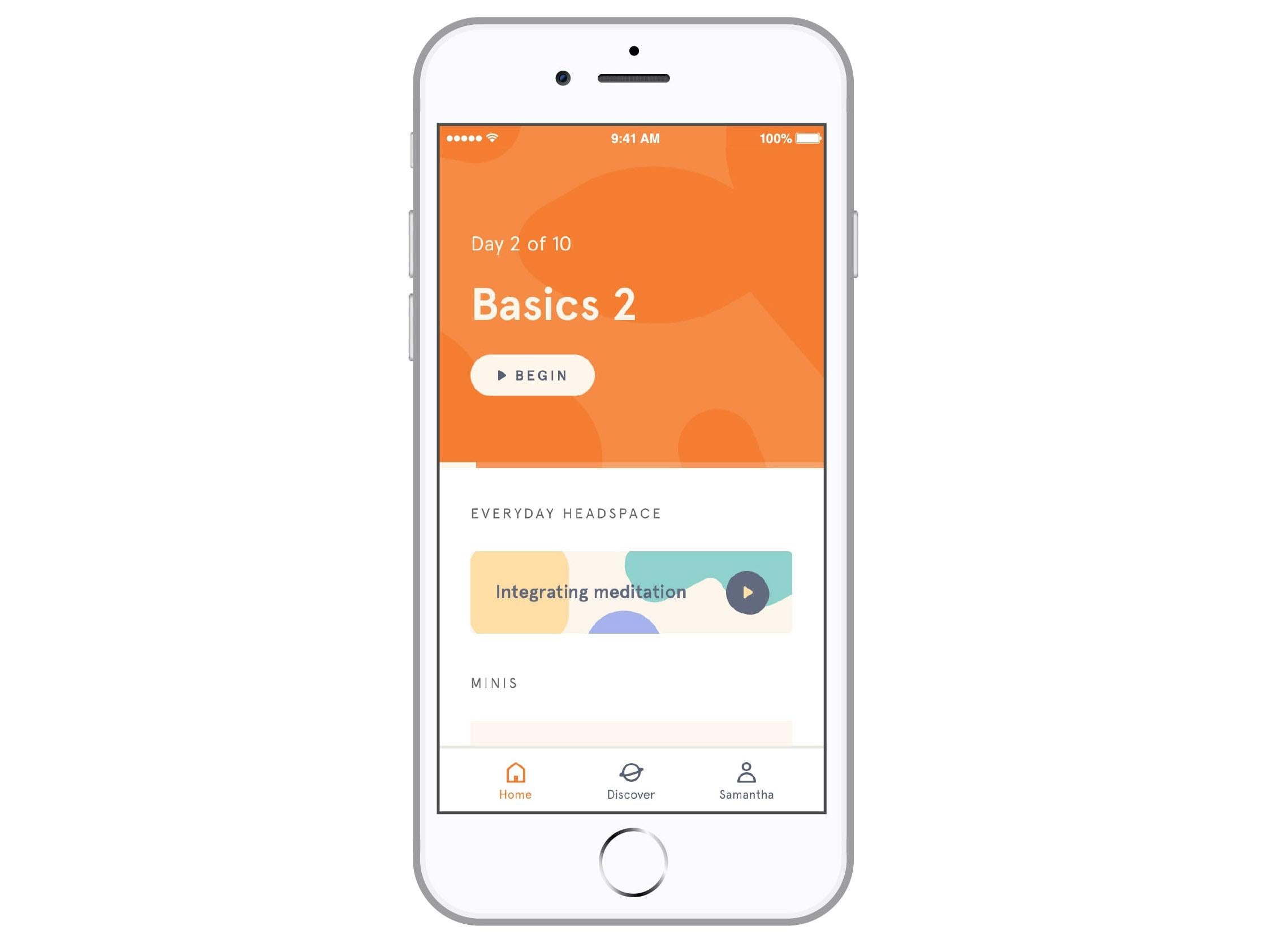 Headspace is one of the best-known meditation apps on the market. Following its launch in 2010, it has accrued more than 60 million members across 190 countries – and it's not hard to see why. The app is a great choice if you want to learn the essentials of meditation and mindfulness, with a free 10-part "basics" course and whimsical animations to help you find your feet. The sessions, which come in three, five or 10-minute chunks, are easy to follow, focusing on breathing and scanning through the body to check in on how you feel. We found the sessions, narrated by co-founder Andy Puddicombe (who came up with the idea after ditching his sports science degree, travelling to Asia and becoming a Buddhist monk), more relaxing and less jargon-heavy than others. There are also bite-sized "minis", including a one-minute breathing exercise, and themed sessions available if you want to add a little more mindfulness to your day.
If you feel the need to escape from 4G, you can also save your favourites for when you're offline. The premium service unlocks hundreds more specialised meditations for everything from stress to sleep (although it's worth noting the slightly higher annual price than some of the other apps). We think Headspace is by far the best app for beginners and would recommend anyone hesitating to go ahead and download it.
Download for iOS
Download for Android
Portal – Focus, Sleep, Escape: £3.99 to download, iOS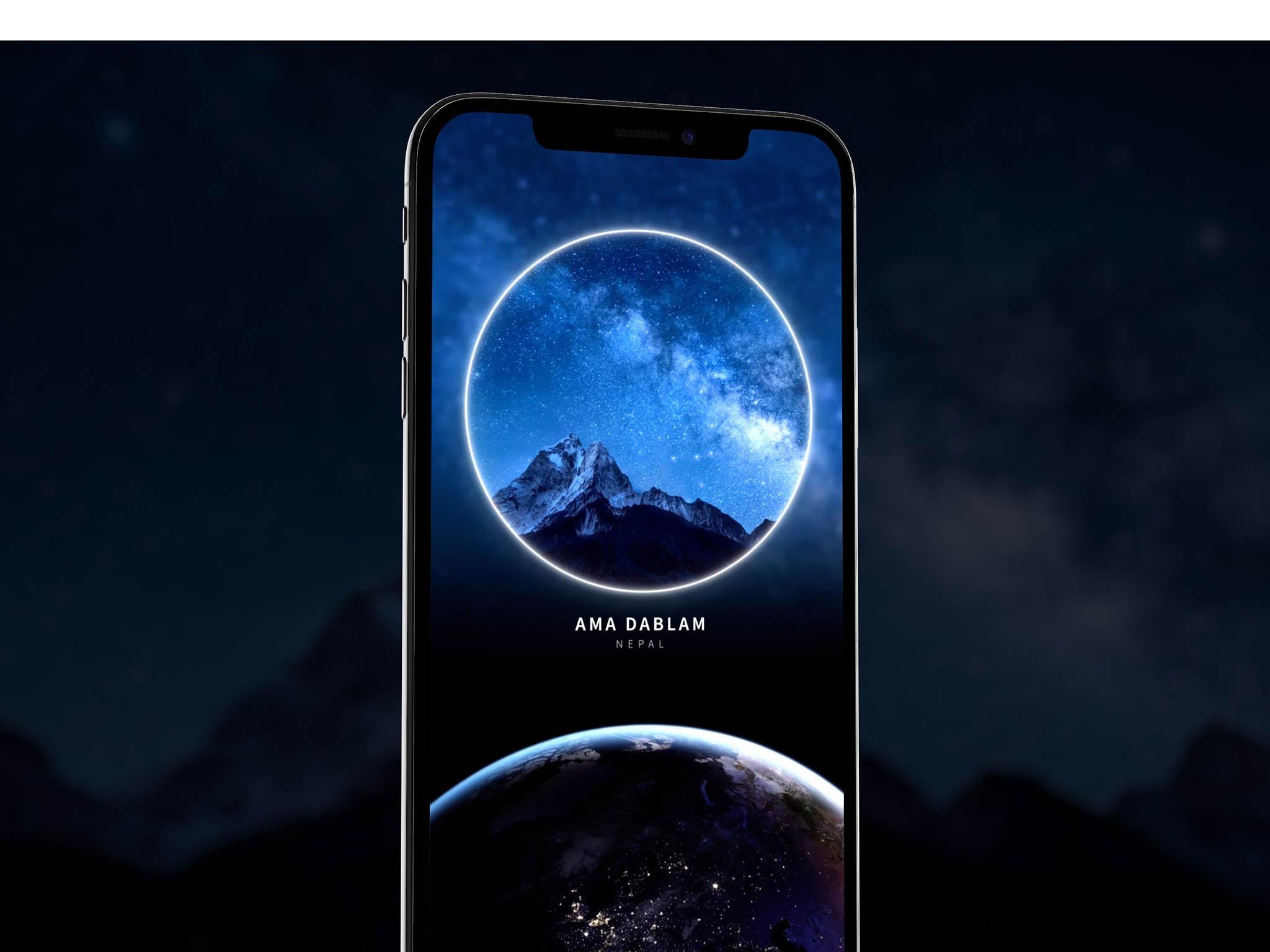 Do you ever find yourself sitting on the train home after a stressful day at work wishing you were actually in Hawaii listening to the waves crash against the beach? Or curled up next to a log fire in Switzerland? Well, this app can help with that. Portal is a mindfulness app with a difference. Instead of guided meditations, the app transports users around the world, helping them chill out with the assistance of some of nature's most relaxing sounds.
We loved the concept and found it not only helped with us relax, but also sent us to sleep when the dreaded insomnia kicked in. From summer thunderstorms, to the rustle of palm tree leaves, there's a sound to suit everyone – plus you can mix Portal's audio with other apps to add a little extra ambience to your audiobooks or podcasts. There is also a "relax" function, which includes breathing exercises, and a "focus" section, where we found it helpful to write the one thing we wanted to concentrate on, boosting our productivity. We've also had a sneak peek of the next update, which includes even more content and dynamic imagery. Our only complaint was that we had to leave the app open and our phone unlocked to use the alarm function – but we'd recommend those looking for something a little different to look past this and give this app a go. You're bound to feel on top of the world in no time.
Simple Habit: Free to download, optional subscription £38.99/year, iOS/Android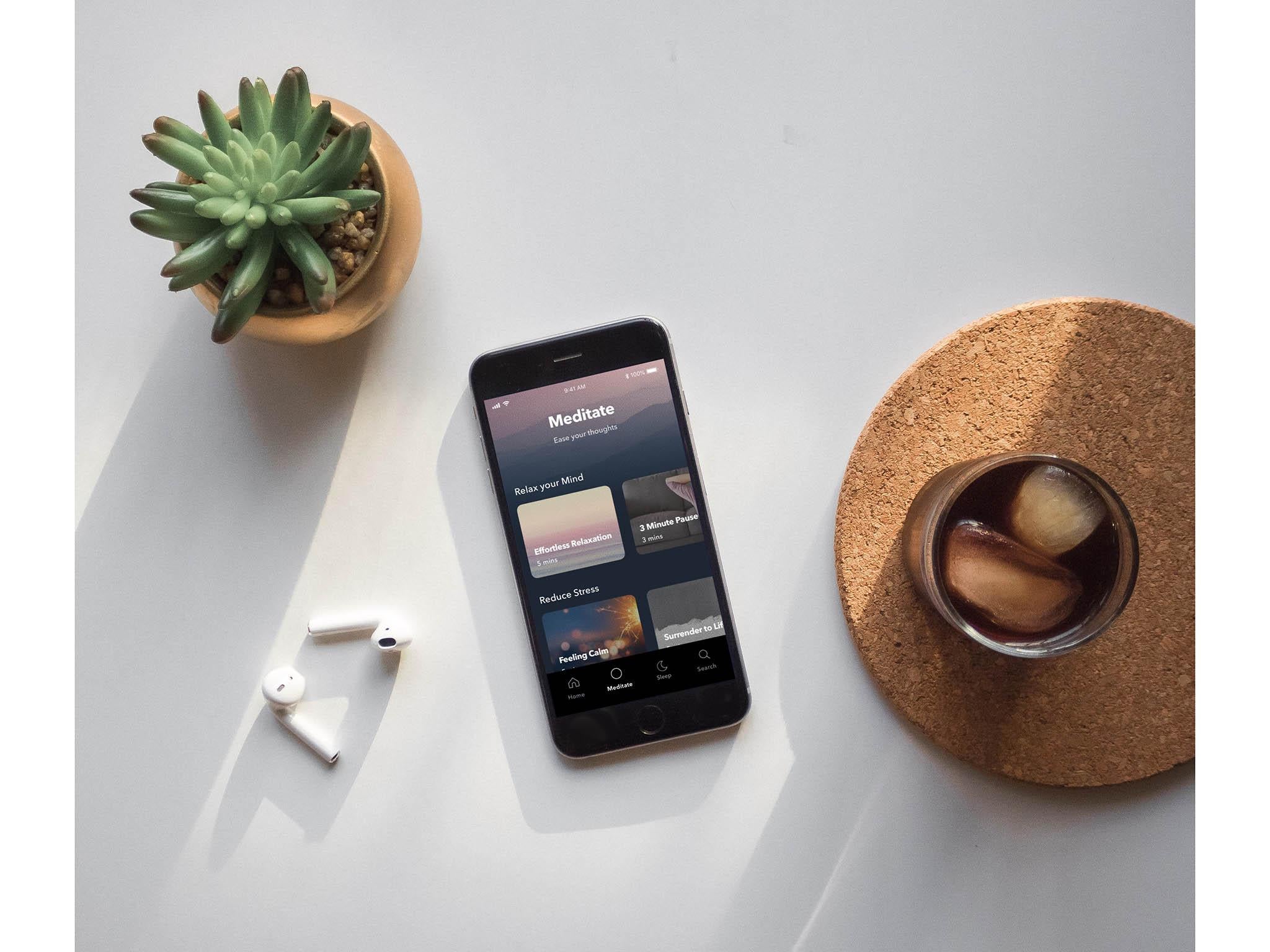 This app offers stress relief for busy people. It was set up by Yunha Kim, who recognised that many of us do not have time (or at least *think* we don't have time) to squeeze yet another thing onto our to do list. To help combat this, the app offers audio meditations as short as five minutes, with good quality guided meditations that really do help to reduce stress and calm the mind.
The meditations themselves are well paced and offer good guidance. We found there was a little more space towards the end of each recording, which helped us really relax without the need for continual instruction. We were also impressed by the variety on the app. Users are asked to choose topics that interest them when they open it for the first time and there really is something for everyone – from meditations that will help you find your feet after a break up, to post-argument relaxation, stress-free commutes and pre-date mindfulness to help you get into the zone.
The app itself is clean and modern, with a simple feed and easy-to-use interface. Lots of the content is free to use, if you don't want to pay for the optional subscription, but we also think the price is very reasonable for such a high quality app.
Download for iOS​
Download for Android
Stop, Breathe & Think: Free download, optional subscription £9.99/month, £54.99/year), iOS/Android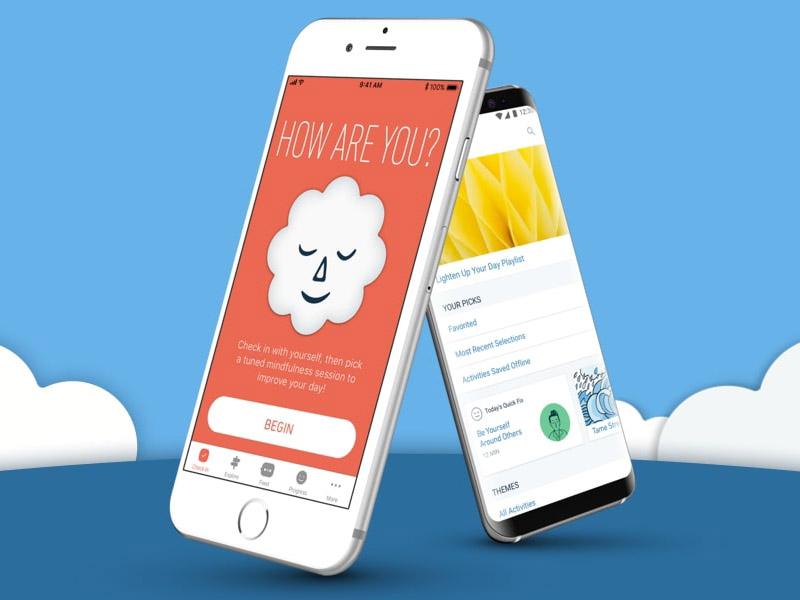 Unlike many other apps on the market, Stop, Breathe & Think asks you to "check in" before meditating. Using a choice of adjectives to describe how you're feeling, both physically and mentally, we found this was a great way to get into the right mindset after a busy day in the office or on your feet. The app then uses this information to recommend short, guided meditations or yoga, from five-minute "joy" sessions, to longer practices to help you deal with anxiety or to relax, ground and clear your head. You get 30 free activities, with more than 100 others available if you upgrade to premium, including some acupuncture videos.
While the app describes itself as an emotional wellness platform for the under-25s, we found it was equally as effective for all ages and has all the standard features, allowing you to set reminders and track your progress. There's a separate app for kids, while a handy "how to" guide on meditation is available if you need a little more guidance. Finally, if you want to do your bit while learning how to lead a happier and healthier lifestyle, the company supports Tools for Peace, a non-profit that teaches mindfulness skills to inner-city teens, by sharing 10 per cent of its net revenues.
Download for iOS
Download for Android
10% Happier: Free one week trial, then £12.99/month or £87.99/year, iOS/Android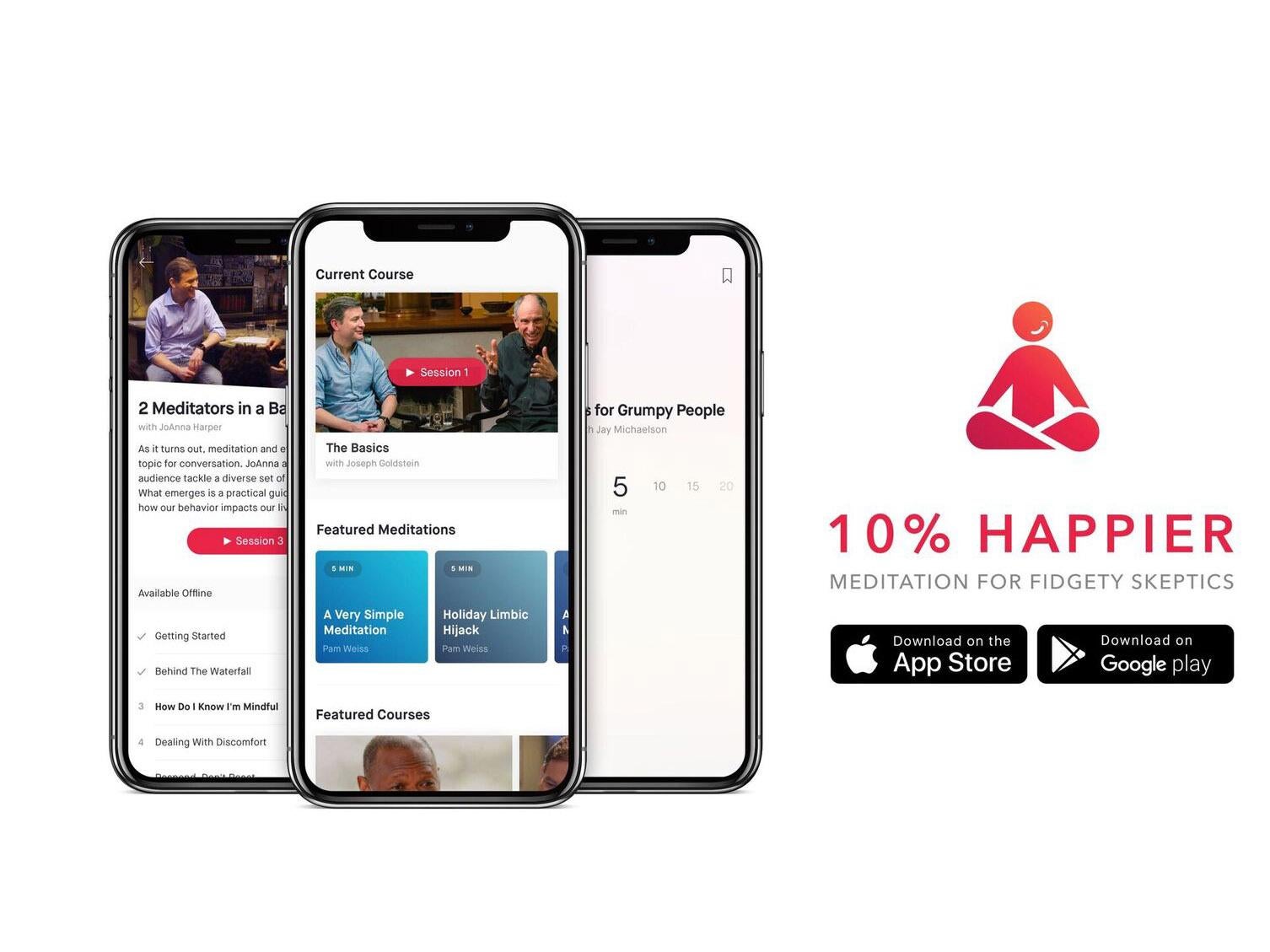 The 10% Happier app bills itself as "mediation for fidgety sceptics". "Most of the meditation apps out there have a very traditional tone – very soft and gooey and loving," co-founder Dan Harris told TechCrunch last year. "But we're much more in the no-b******* category." Harris, a television news anchor with the self-confessed "attention span of a three-year-old retriever" started meditating after he had a nationally televised panic attack.
For the most part, Harris has achieved what he wanted to; we liked 10% Happier's relaxed nature, from the simple interface to the short video lessons, which teach users more about mindfulness. The guided meditations are very much "no frills", which we found incredibly refreshing. As well as being asked how often you've meditated before, why you want to meditate (do you want to be happier or is it to reduce stress?) and how you've been feeling lately, you can also set reminders to ensure you never miss a session. Pay the subscription and you'll get more than 500 guided meditations (including sessions such as "tooth brushing" and "in the shower"), as well as a number of packages, from the basics, to programmes centred on performance, relationships or – what everyone needs – how to be 10 per cent nicer. This app is great if you are keen to feel the benefits of mindfulness without wanting it to take over your daily routine – or if you're a straight-talker who prefers no fuss.
Download for iOS
Download for Android
MindU: Free one-week trial, then £58.99/year, iOS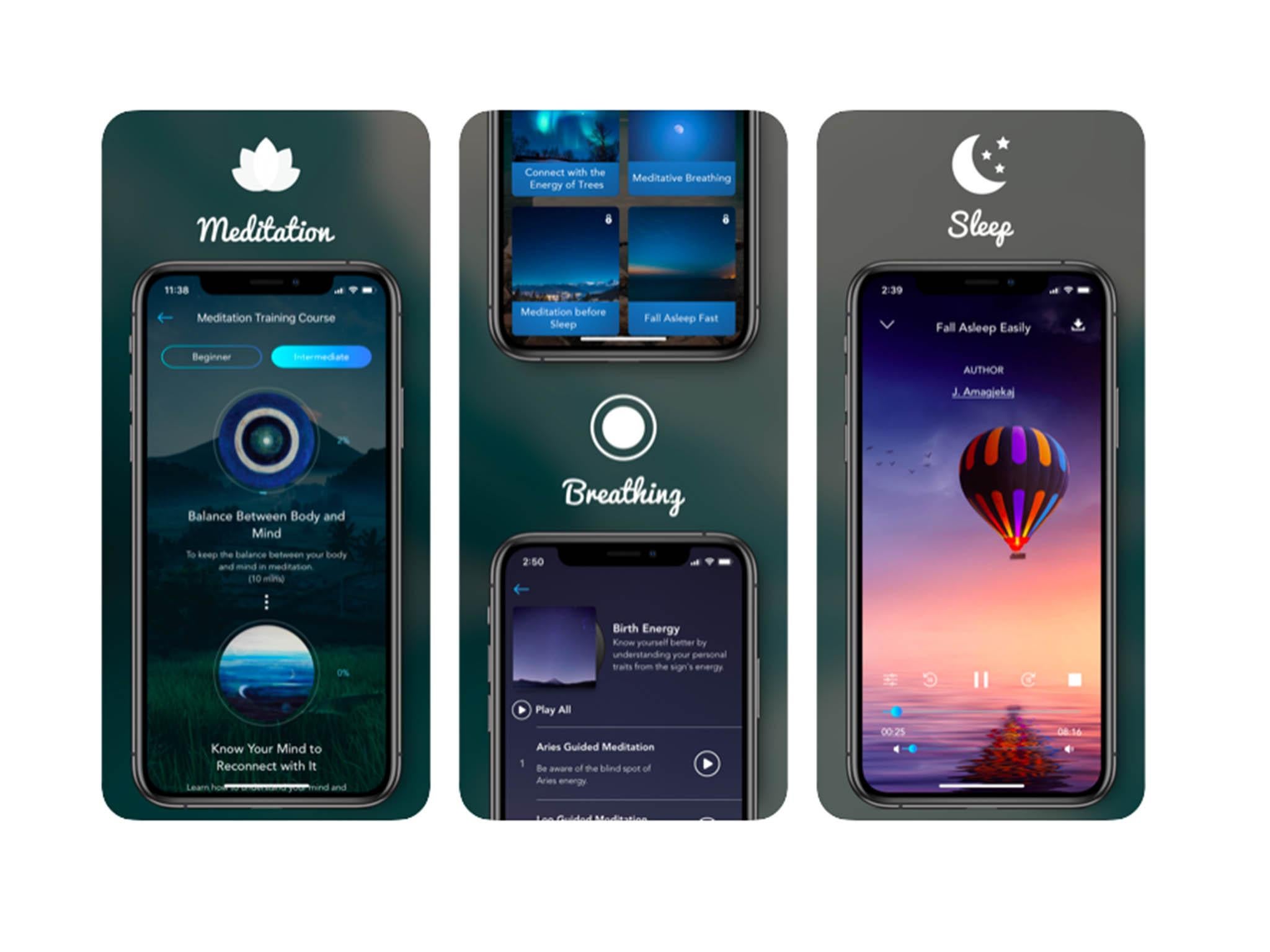 Open MindU and you won't be given a dropdown menu to describe how you're feeling. Instead, you'll be asked to place your finger on your phone's camera to measure your "energy levels". Ten seconds later, you'll be told just how much energy you've got, along with how stressed and anxious you are.
We can't guarantee it's totally scientific – but it is certainly a unique feature in a crowded market, and we were pleased to see our stress levels went down as we used the app (thought we were slightly skeptical about the 18 per cent increase in energy after just one session). The meditations themselves are set to space-style music, with the beginners' ones offering a slightly faster pace than we were used to. We found the phrasing repetitive at times and the app is also on the expensive side when compared to others. But overall it offers a good variety – and a quirky gimmick for those looking to start or continue their path to mindfulness.
Insight Timer: Free to download, optional subscription £55.99/year, Android/iOS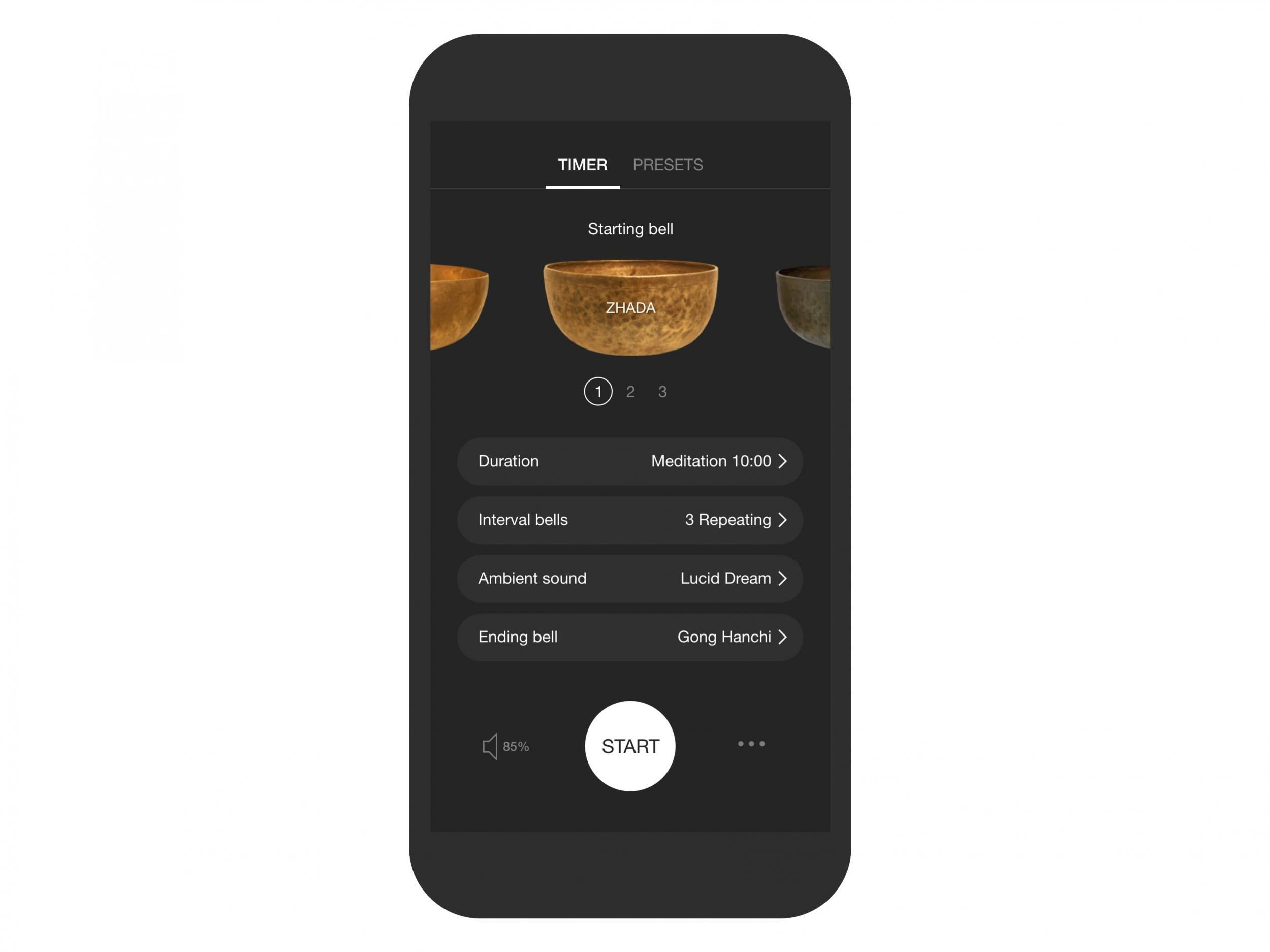 Insight Timer is more of a social network for meditators. As well as a world map showing you how many people are meditating at any one time, it allows you to see who is nearby and to invite friends to join in with you. There are also community groups where you are encouraged to join meetups throughout the UK, or discuss anything from poetry to Hinduism.
As for the content, Insight Timer says it's the world's most popular meditation timer, with a free library of guided meditations at 30,000 and counting. These range from beginners' flows, to sessions focused on self-love, better relationships and conquering addictions. The customisable timer feature is perfect for short meditations when on the go and you can even choose whether you want ambient background sounds or ending bells.
This is a great app with lots of content – but it can be daunting for a beginner. We recommend sticking with it, though, if you're willing to put the time in to find out what really works for you. If you need even more content, premium gets you extra courses, access to The Daily Insight, offline listening and Nightmode for early risers and night owls.
Download for iOS
Download for Android
The Mindfulness App: Free one week trial, then £54.99/year, iOS/Android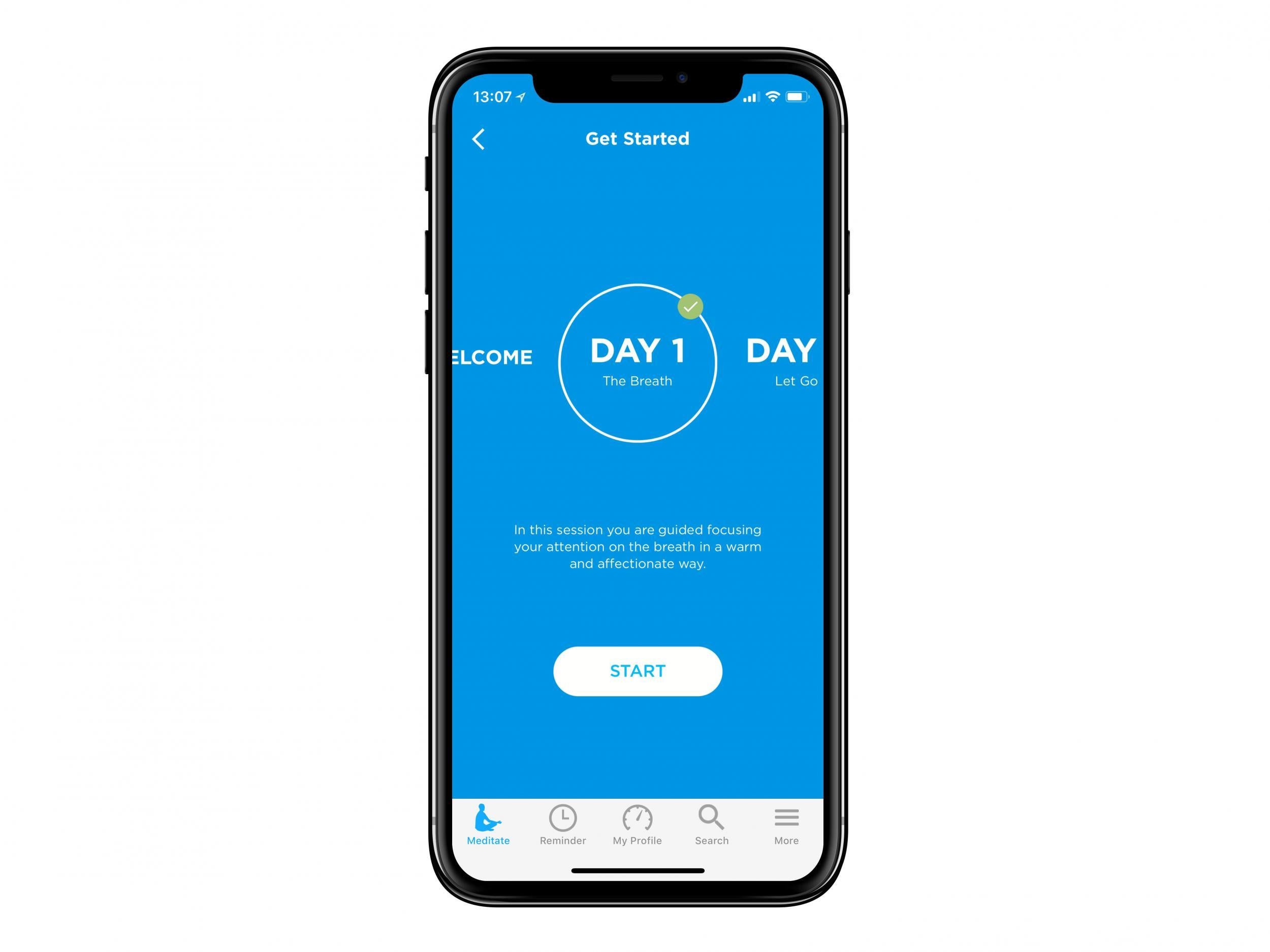 This app does what it says on the tin. With a free download, not only do you get a five-day introduction to mindfulness, but there is also a range of guided and silent timed sessions to choose from – from a three-minute refresher, to deeper half-hour sessions. There are also daily reminders and statistics, so you can stay focused on your practice and keep up to date with your progress, as well as "Mindful Notices", which help you stay grounded throughout the day (think: "become aware of the contact your body is making with the ground" popping up on your phone around 11am).
We didn't get on that well with the standard voice, but we did love the traditional bell sound, which chimed at the beginning and end of each session. We also liked that we could save our favourite sessions to use when we're offline (for example, on the tube).
Paying for the subscription will get you more than 200 additional guided meditations as well as courses on relationships, your body, sleep and more. Whatever you choose, this app has a really simple interface, so it's easy to find what you want and save your favourites for next time. Overall, a great download.
Download for iOS
Download for android
Buddhify: £4.99 to download, iOS/£2.99 to download, Android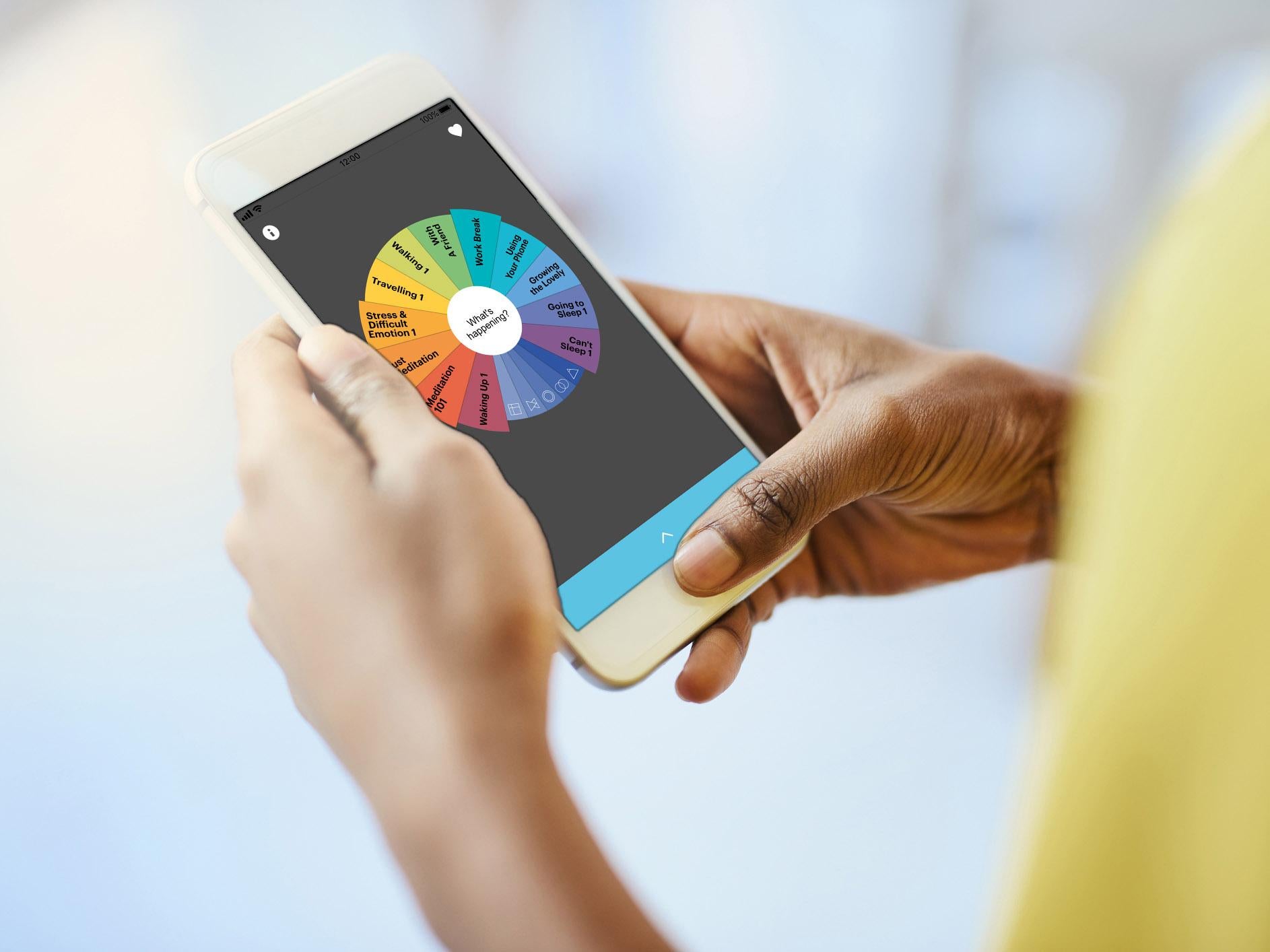 Buddhify boasts that it is the "only meditation app designed to fit into a busy modern lifestyle". It's certainly unique in its design, with a daily wheel divided into segments, from waking up, to going to bed. The colourful disc is designed to help you find relevant mindfulness and meditation exercises depending on the time of day, with plenty of short, spoken sessions for use on the go. We loved the "work break" exercises, which help you relax at the office, while the "travelling" segment was perfect for that dreaded journey into work.
Sessions range from four minutes to around half an hour, and there are also guided exercises if you can't sleep or if you're feeling particularly stressed. We liked the idea, but found that many of the other apps also had the variety we needed to fit them into our busy lives. This was also one of the only apps that makes you pay upfront – so if you'd rather try before you buy, then you might want to go for something else.
Download for iOS
Download for Android
Reflectly: Free one-week trial, then £41.99/year, iOS/Android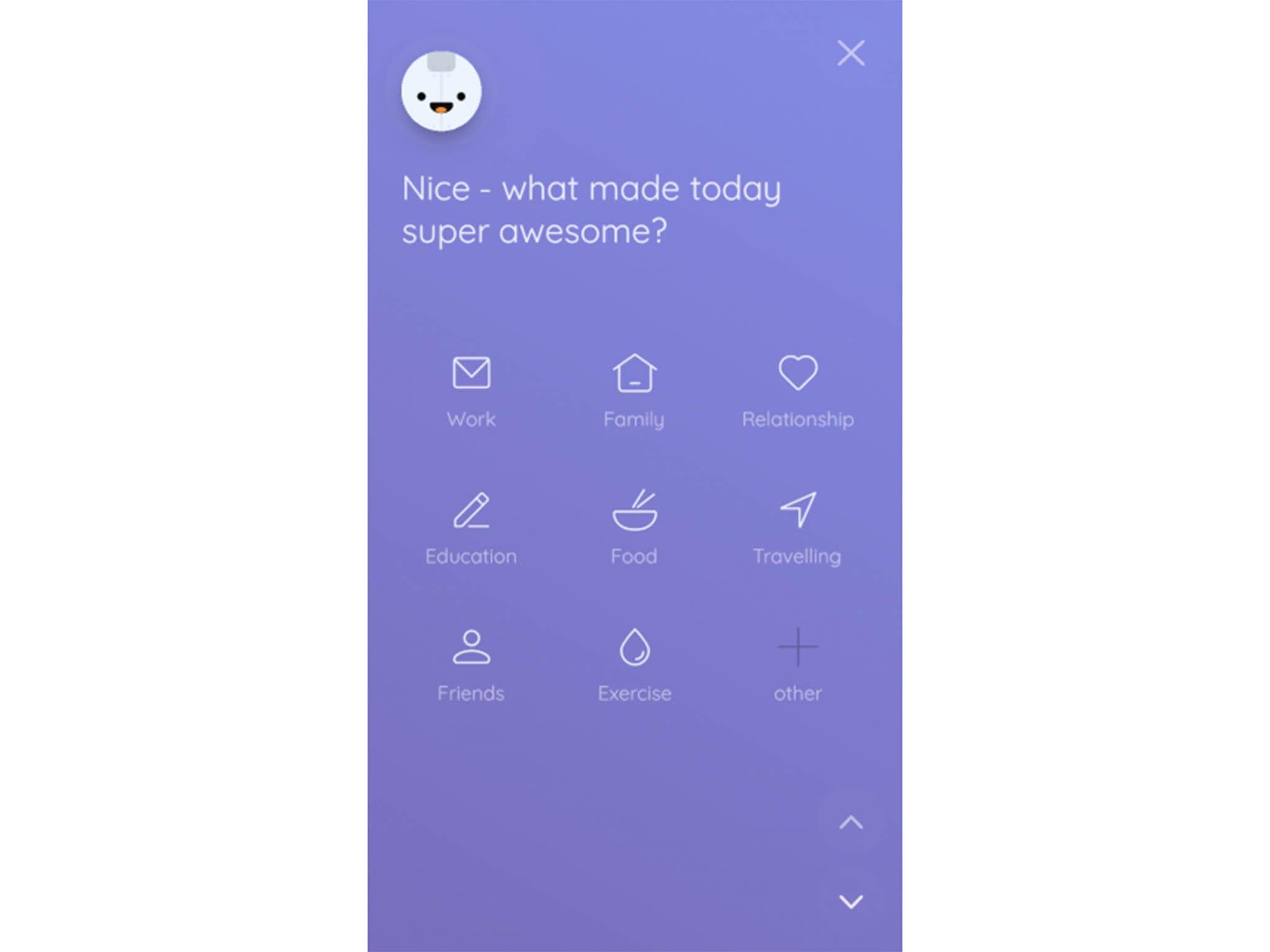 Reflectly describes itself as a journal for happiness. More specifically, it claims it will enable users to "deal with negative thoughts and make positivity louder" as it teaches them about the science of well-being. It does this by asking easy-to-answer questions, enabling better reflection on the ups and downs of each day.
The idea is a good one. There are many people who would benefit from mindfulness but who do not necessarily want to follow guided meditations, or who can't quite get on board with the over-the-top mantras that some apps on the market promote. This handy journal app allowed us to instead track our thoughts and feelings by asking questions like how our day was, why it was good (for example, because of food or work), and how we felt. Our answers were then saved as "stories", which made up the wider "journal". We found that even after a couple of entries, it helped us gain perspective, and also increased our gratitude for some of the little things in life.
At times, however, the app felt a little childish. The language is extremely simple (think "Nice to meet you! What do your friends call you?" and "super awesome"), while we found the options for the questions – some of which are answered via a sliding scale – slightly restrictive. If you're after something a little different though, this app could be a good starting point for your mindfulness journey.
Download for iOS​
Download for Android
Smiling Mind: Free to download, iOS/Android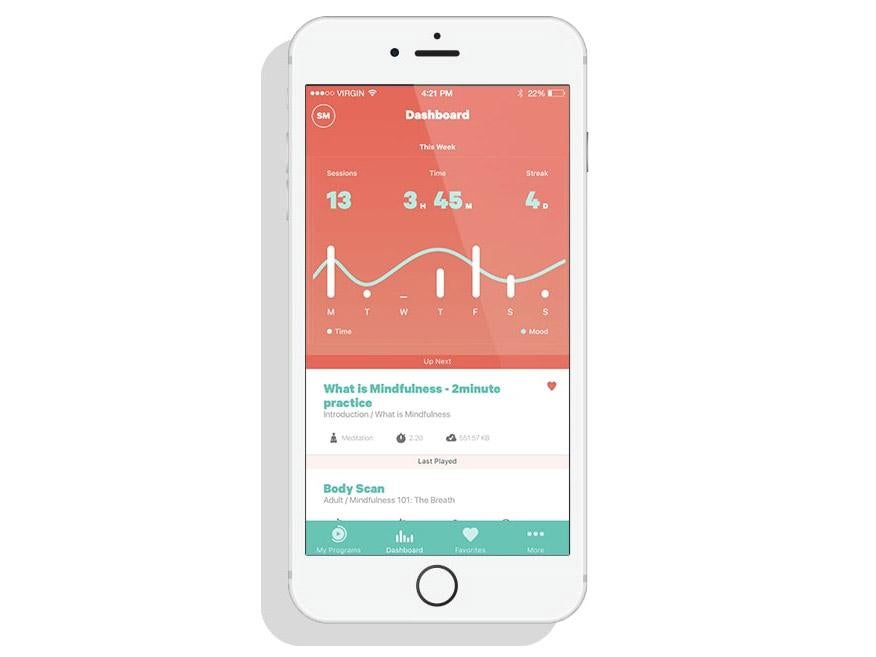 If you're obsessed with data and don't want to spend ages scanning through hundreds of programmes to find what you need, then this app is a great choice. From the moment you open Smiling Mind, you start inputting information to ensure you get a customised list of guided meditations. From asking you how much experience you've had before, to identifying what you're interested in – from mindfulness in sport to improving performance and sleep (who isn't interested in that?) – we liked the customisable element and found it saved time. Like some of the other apps, we also liked being able to check in and out before and after meditations to track our progress.
The guided sessions are easy to follow and offer a good balance between silence and narration (we particularly liked the Australian twang). Our favourite was the "body scan", which encourages listeners to identify how parts of the body are feeling. It may not be as slick as some of the other apps on the market, but we loved it all the same. Even better, Smiling Mind is completely free, as it was set up by an Australian not-for-profit organisation, which wants to make mindfulness "an accessible tool for all".
Download for iOS
Download for Android
The verdict: Mindfulness apps
If you are looking for the right mindfulness app, it's reassuring to know that there are plenty of great options out there. Calm was our favourite due to its variety – from the calming bedtime stories, to the easy-to-follow meditations. Headspace was a close runner-up and by the far the best app for beginners. We also loved Portal, which offers us a haven through our headphones, and the sceptical 10% Happier for its refreshing nature, while Stop, Breathe & Think really makes you "check in" with yourself. As most of the apps are free to download, make sure you try before you buy and find one that makes your daily routine easier, not harder.