Looming at 21 feet tall, Chris Carnabuci's new sculpture
Mariposita
 (2019) portrays an alluring woman emerging from an eggshell. The piece is far from your average artwork, comprised of thousands of pieces of plywood, each designed and cut with 3D-modeling software and a CNC machine, then assembled by hand. In a few weeks, the artist will hit the road on a cross-country journey with his massive creation in tow to a haven of otherworldly art: 
Burning Man
.
Mariposita is one of hundreds of innovative, large-scale artworks that will pop up across Burning Man's 7-square-mile footprint in Nevada's Black Rock desert. Art at the annual event promotes self-expression and creativity, while serving as interactive sites for community, celebration, and inspiration. But how does such an artwork come to life?
The idea
(A rendering of Chris Carnabuci, Mariposita, 2019. Courtesy of the artist).
The idea for Mariposita came from a much smaller piece Carnabuci made in 2014, titled Fertility. That sculpture—a bust of a woman emerging from an egg—was part of The Big Egg Hunt, a New York City–wide exhibition of artist-designed eggs in spring 2014. Afterwards, Carnabuci dreamt of making a piece in a similar vein—on a much larger scale—for Burning Man. (Full disclosure: Chris Carnabuci is part of the same Burning Man camp as Artsy founder and executive chairman Carter Cleveland.)
Carnabuci, who is an architectural designer by day, has been helping fabricate artworks for Burning Man for over seven years, but he's never presented his own work at such a great scale. "I was very impressed with the work that's out there," he said. "And if you're out there in the desert, you need to build big, because it's so expansive, everything is miniaturized. It's not for the sake of building a large sculpture, it's just for the sake of making it fit within its own environment." For him, that major task required over 18 months of planning.
(Chris Carnabuci at work on Mariposita, 2019. Courtesy of the artist).
Mariposita features a full female figure, who is modeled after Carnabuci's wife, Paula. A tango dancer, Paula created a performance that will accompany the piece at Burning Man. And the name Mariposita came from her, too: She'd visited a tango studio of the same name in Buenos Aires; it means "little butterfly."
"It seems to me like a perfect name," Carnabuci said. "It's this woman breaking out of a shell." He added that it resonates with the present moment, and presciently, this year's theme for the art at Burning Man: metamorphosis. The final piece will have sound and lighting elements, and will sit directly on the ground, allowing people to interact with it easily.
(An in-progress view of Chris Carnabuci, Mariposita, 2019. Courtesy of the artist).
The funding
Unsurprisingly, such an endeavor is expensive. Like many artists showing at Burning Man, Carnabuci applied for funding from its grant-giving committee. To apply, he shared details about his experience going to Burning Man and his past work, as well as a rendering of what Mariposita would look like. In the second round of the process, he outlined how much grant money he needed, a plan for supplementing that with additional funding, and the logistics of transportation and installation.
In March of this year, Carnabuci found out he'd been approved for the funding he requested. In May, he set up a month-long Kickstarter campaign to secure the supplemental funding he needed: $25,000. He surpassed that goal, raising $25,625 by the end of the month. Carnabuci estimates that Burning Man covered almost a third of the cost, while the Kickstarter campaign covered two-thirds, and he covered the rest.
(Chris Carnabuci at work on Mariposita, 2019. Courtesy of the artist).
With Fertility, Carnabuci began using his now-signature technique, which involves the use of a CNC machine—a computer-controlled apparatus that can be programmed to create specific marks or cuts in a variety of materials. He uses it to cut precise slices of plywood that stack up to resemble figures. For Mariposita, he needed to create a digital 3D model of the piece, which he would use to program the CNC.
To create that 3D model, he needed to determine the pose of the woman in the shell. He went to the studio of photographer
Peter Freed
—who is also
Mariposita
's documentarian—where Paula sat for a shoot, trying out different gestures. Carnabuci then used those images to inform a 3D model he created with the software DAZ 3D. He manipulated a rendering of a female figure into the desired pose and adjusted her features to resemble his wife, making it look as realistic as possible. With that model, Carnabuci mapped out the dimensions and a plan for building the piece. Limiting factors included the size of plywood sheets; the height of the shop in Suffern, New York, where he was building it; and the volume of the 26-foot-long truck he'll use to drive the sculpture cross-country.
(An in-progress view of Mariposita, 2019. Courtesy of Chris Carnabuci).
Carnabuci began building in motion, knowing that he would be under a time crunch. "Even at that point, six months away from the Burn, you never have enough time," he said. He did a lot of the programming work to prep for the CNC process, and put up his own money to purchase the plywood needed to begin the most time-consuming part of the process: building the woman.
First, he uploaded the 3D-model file to a software called Slicer for Fusion 360, which converted the female form into 300 different huge lateral slices that, when stacked up, resemble the figure. Those slices are far larger than any piece of plywood, however, so before putting that information into the CNC, he had to divide each slice down further—each one became 4 to 12 pieces. In the end, by Carnabuci's estimate, there were over 3,000 individual parts. "Then, I had to take all of those pieces, sand them down, and painstakingly put them together with screws and staples," he said.
(Pieces of plywood for Mariposita, 2019. Courtesy of Chris Carnabuci).
The sculpture couldn't be made as one giant whole, as it would be impossible to move and transport. Instead, Carnabuci created a series of blocks that can be fitted together like Legos to construct the woman. "With transportation and installation on my mind, I made sure that I'd be able to actually move this and install it without needing an army of men and women and heavy equipment," he said. "I can actually put this whole thing together with, like, two guys and two ladders."
(Chris Carnabuci at work on Mariposita, 2019. Courtesy of the artist).
While Carnabuci is the main artist behind the work, his team of collaborators is crucial to realizing Mariposita. In addition to Paula's dance and Freed's documentation, Carnabuci has called on the support of executive producer Owen Grover, project manager Morgan Wynne, lighting designer Alexandra Wynne, and 3D-modeling artist Kat Kinkead. Additionally, he's hired two collaborators to install the piece, and one of his daughters will join him on the drive.
The transportation and installation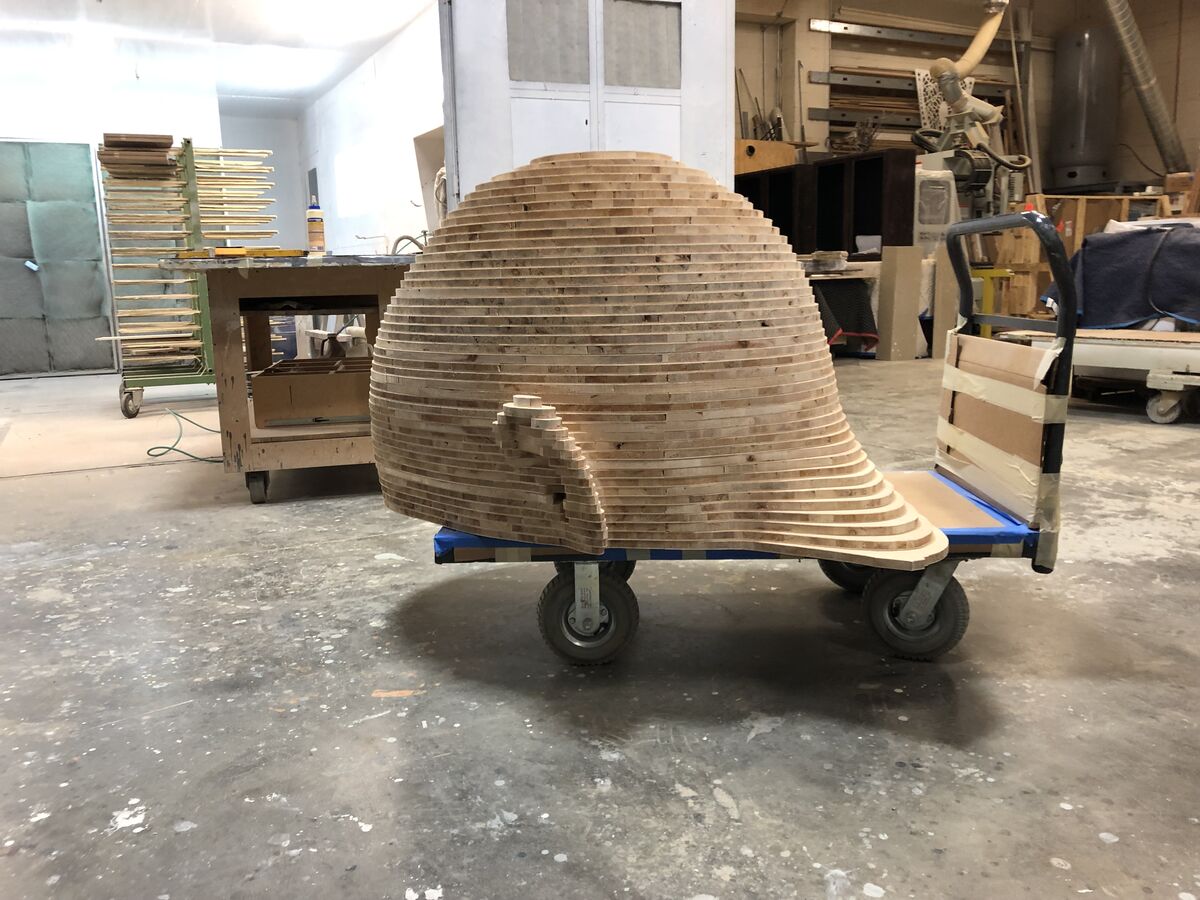 (In-progress view of Mariposita, 2019. Courtesy of Chris Carnabuci).
Carnabuci has already transported the woman sculpture to a warehouse in Albany; she was too large to stay in the shop in Suffern. After he finishes the egg, he'll move that to the same warehouse, and spend a weekend on a test-run installation. "Theoretically, everything should work, but nothing ever works in real life the way it does on your computer," he said.
(In-progress view of Mariposita, 2019. Courtesy of Chris Carnabuci).
(Mariposita, 2019. Courtesy of Chris Carnabuci).
Then, he'll rent a truck and hit the road by August 16th, to arrive at Black Rock by the night of the 19th or the early morning of the 20th. Artists are assigned a space on the Playa where they can mount their works. Carnabuci estimates that it will take three days to build the piece; he plans to spend the extra time tweaking it and working on sound and lighting elements with his collaborators.
The finished piece
(Chris Carnabuci with Mariposita, 2019. Courtesy of the artist).
Though Carnabuci's thinking is grounded in the present and in ensuring the work comes together smoothly, he expects that once it's finished, he'll feel exhausted—but excited, too. "It's going to be the biggest, best thing that I've ever done," he said. "That's the plan, anyway. So I just hope that I'll be very proud of it, that it has some lasting significance to me and for others." Ultimately, he noted that sharing it with others and seeing them engage with it will be incredibly rewarding.
And while some artists burn their works at the end of Burning Man, Carnabuci will not. He's currently exploring options for it to find a new home on the West Coast, potentially in a public space or a sculpture park, or he may drive it back to New York.
Carnabuci noted that the people and the experience of Burning Man keep him going back each year, but the art is crucial, too. "All our friends go there, and it's a good place to sort of lose yourself and just get away from the real world for a bit and recharge," he offered. "But it's better, for me anyway, to go with purpose. Each year, that purpose has been somehow related to art."